How Elm Street got it's groove
In the scheme of things Elm Street is a relatively new road. Park Street, "the Postroad to Stamford" and Main Street, "the Road to Darien" date back to the days when New Canaan was Canaan Parish (founded 1731), but it was not until the 19th century that they were connected by crossroads. Maple Street and Cherry Street were opened up in 1825 and 1826 to encourage residential building. When Elm Street was laid out in 1848 as the third crossroad from Park to Main it was known as Trade Street. Tradition holds that Elm Street was named by William Dann, who arrived from Stamford in 1851 to open up a grocery store and livery stable on the south side of the first block on the new road. When ordering an announcement card for his businesses Dann was informed by the New York printer that they must have a street address. Until then, few New Canaan roads had names. So Dann coined the name "Elm Street". The naming of Cherry and Maple followed shortly after.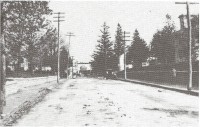 The first block of Elm (between Main and South Avenue) provided new business sites and opportunities. But Elm Street in the next block presented a considerable challenge for building and traffic. Just west of South Avenue the road rose in a short steep hill, steep enough to provide a good coast down to Park and to pose difficulties for heavy horse-drawn wagons, such as those The Hoyt Nursery sent loaded with trees to be shipped on the railroad cars. In April 1889, with no power machinery available, the highway crews began the back breaking job, with picks and shovels, of "downgrading" the Elm Street hill. Blasting often was necessary to break through the rock ledge. The roadbed was lowered by several feet while Main Street was raised by the loads of stone and gravel deposited by horse drawn dump carts.
Once the first trains ran into New Canaan on July 4, 1868, Elm Street was rechristened Railroad Avenue in honor of the town's new pride and joy and would retain that name for the next 68 years. But as businesses grew and the population expanded the town's community leaders felt the name "Railroad Avenue" conveyed no impression of the neat colonial atmosphere that the street has achieved. So in 1936 the name "Elm Street" was officially restored.
By 1926 New Canaan was a fast growing community. People were moving in, summer residents from New York came in droves and there became a demand for new services and businesses. The creation of the red brick and white trim Playhouse, designed and built in 1922-1923 by New Canaan architect Calvin Kiessling, established the "colonial" look of Elm Street which was maintained in future expansion. Kaiser & Deforest had applied for a permit to put in a filling station (where Mobil is now) north of their garage at the corner of South Avenue and Cherry Street. A new plant west of the Playhouse was being constructed to house the New Canaan Advertiser and John McGrath's taxi service.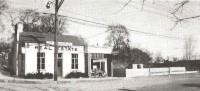 When Brotherhood & Higley Real Estate began business in 1926, Elm Street (called Railroad Avenue then) presented an almost rural scene in the block between South Avenue and Park Street. On the south side of the block there was just one house, which sat high on a bank. On the north side was only the Playhouse of New Canaan and the real estate office of John Brotherhood which sat all by itself diagonally across from the railway station at the corner of Elm and Park.
The village of New Canaan continued to expand. By 1936 the Colonial Building had been erected, a lease had been signed by First National's  grocery store (today the Whitney shop), and the south side of the street housed the Mar-Ken's restaurant,  A&P's liquor store, Totaro's fruit and vegetable store (shared with Pia's meat market), Seymour's gift and stationary store, a dress shop and the Colonial Barber Shop. Upstairs offices included three dentists, three architects, two construction companies, a lawyer and the New Canaan Water Company. By itself, down the block, was Albert Franco's grocery and liquor store and at the corner was a Texaco filling station (now Starbucks). It's hard to image four grocery stores on the south side of Elm Street.
Businesses have come and gone and moved from one Elm Street site to another, but the blocks between South and Park retains much of its colonial appearance. Surrounding the stalwart establishments of Franco's (now Franco's Wine Merchant), Brotherhood & Higley Real Estate and the Playhouse, businesses continue to thrive and transform. Second stories have been added to many of the buildings to house a plethora of enterprises and companies. Restaurants, pharmacies, boutique shops and mainstream retailers have all taken advantage of one of the few "walking towns" left in Fairfield County.
Thanks to remarkable people like Mary Louise King and countless others who put down on paper their recollections and organized numerous records we have a treasure trove of accounts and descriptions of this "quintessential New England" village. Taking great license with their work the proceeding information was culled, copied and condensed from sources acquired from the New Canaan Historical Society.
https://wendyfog.com/wp-content/uploads/2021/02/wendy-fog-realtor.png
0
0
Wendy Fog
https://wendyfog.com/wp-content/uploads/2021/02/wendy-fog-realtor.png
Wendy Fog
2011-08-07 13:37:30
2016-01-25 12:26:05
How Elm Street got it's groove