The best kind of friend is the kind you can sit on a porch swing with, never say a word, then walk away feeling like it was the best conversation that you ever had".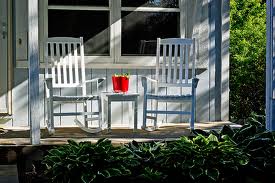 While inspecting a house the other day I got to thinking about porches…I'm in love with porches. They were for rocking and reading a good novel, swinging, kicking your feet up on the railing and listening to the buzzing of the Katydids, sleepovers and whispering late into the night or listening to the thunder and counting the seconds until the lightening hit. You were safe on the porch; from the rain, in a game of tag or from the bully down the street. It was a refuge from the heat and a chance to relax and socialize with the neighbors over drinks.  So what inspired the porch?
In its American sense, it generally refers to "a covered area adjoining an entrance to a building and usually having a separate roof" (Webster). The American front porch evolved from foreign influences and really appeared here in the early eighteenth century. Possible derived from the houses of West Africa, the shotgun house, built by the African slave, appeared as one of the first American houses to universally exhibit a front porch.
The influence of climate on the origins of porches may be demonstrated in the fact that porches in America grew first and most quickly in the South; think of Scarlet and her beloved Tara.
Porches grew in size and shapes and were prolific in the 1800's. They were everywhere, in Spanish and French Colonial architecture, used in Georgian, Greek Revival and Gothic design and incorporated in Italianate and Stick Style architecture.  The development of the automobile, air conditioning, television and new technology transformed the culture and by the 1960's the porch had all but disappeared.  Gratefully, the porch has made a comeback. It is a uniquely American architectural form that still brings a smile and a sense of home. Mint Julep anyone?