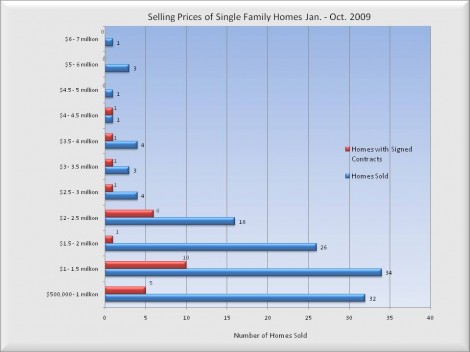 Yes, my third quarter Sold Book ( compilation of all homes sold from Oct '08 through Sept '09 ) recently arrived much thinner than previous years, but those buyers who have stepped up to the window have walked away with some incredible deals. As an example, an 11 thousand square foot home built in 2007 sold  for under $6 million, a  7500 square foot home built in 2008 sold in the low 4 million dollar range and several houses consisting of  8,000 sq. ft  listed in the $4 million category were obtained in the $3 million range. In the high end, meaning homes priced at $4million and up, homeowners accepted offers on average 12%  below their last asking price. In many cases this was after several price reductions from the original value placed on the home.  Across the board houses have sold  for between 11% to 15% below their listed price. The most activity has been in the lower price ranges and inventory below $2 million has begun to dwindle. Less supply translates into a stabilization of prices if not an increase.
Sellers will begin to take their homes off the market for the holiday season. Look to see  a number of those to return after the first of the year and it will be interesting to see if  real estate stays on Weight Watchers or goes for some real gains.
https://wendyfog.com/wp-content/uploads/2021/02/wendy-fog-realtor.png
0
0
Wendy Fog
https://wendyfog.com/wp-content/uploads/2021/02/wendy-fog-realtor.png
Wendy Fog
2009-11-13 16:41:15
2009-11-13 21:29:08
Want to know what they are buying in New Canaan?