Updating my kitchen was becoming a massive headache. With all the products and multitude of choices out there confusion reigned. I threw in the towel and sought the advice of a long time friend and professional. Lainey Baker is a well known and respected residential and home designer. She has been renovating and designing for clients throughout Connecticut and Fairfield County since the early '80s. Lainey became a member of the National Kitchen & Bath Association in'99 and now specializes in redesign for the changing lifestyle. Adding to her resume, she is now a guest blogger on my site. Look for additional words of wisdom and upcoming posts from her.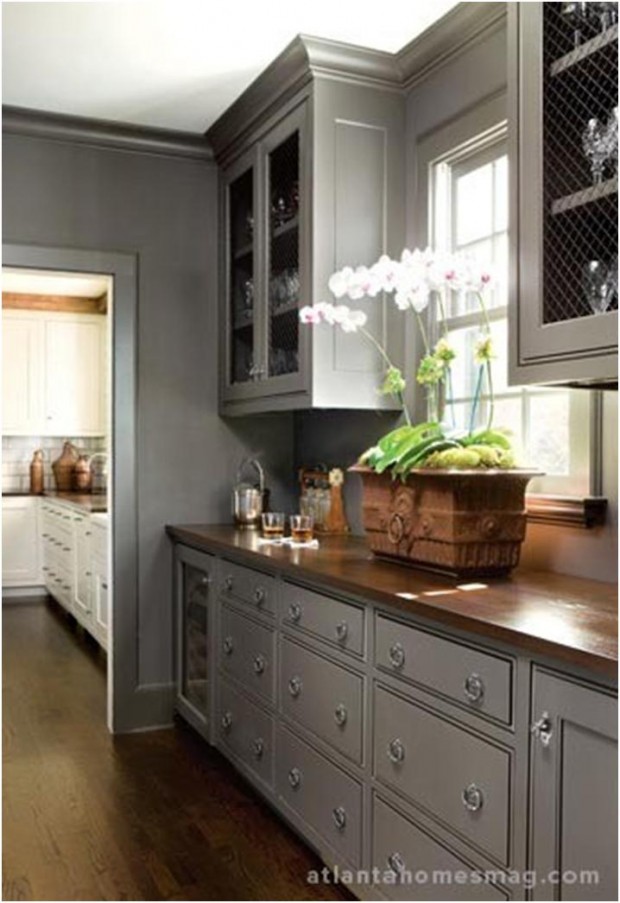 Soft grey tones in the cabinetry of this transitional Butler's Pantry are beautifully accented by the custom wood counter top.
"Choosing Countertops to Complement your Lifestyle"
by Lainey Baker,  MH Baker, llc, member NKBA
Along with the profusion of choice in the countertop world comes the inevitable confusion of "what to choose"? We are fortunate to have amazing fabricators and installers in Southern Connecticut, who can produce almost anything we can imagine. With frequently conflicting advice, and all those wonderful selections, which one of the choices is the right one?
When planning a kitchen, bath, office space, closet, work/play area, etc. I encourage every client to look at their lifestyle and be creative with the choice, or choices, for their countertops. Yes, choices…sometimes it is more interesting to use numerous materials in the same space; one material for an island, another for the perimeter, yet another for a butler's pantry or bar. There are limitations and attractions to every surface choice. Find something that excites you, then take the time to examine the pros and cons; either with your professional consultant or on the internet.
Each year manufacturers and suppliers of countertops introduce new innovations and exciting products to expand our range of choice. From classic stone to eco-friendly recycled materials, the options are wonderful & bewildering.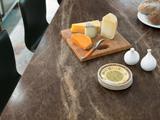 Formica's 180fx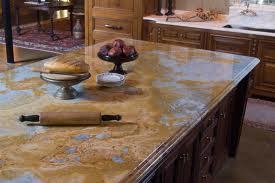 Granite Island with Perimeter in Marble
Natural Stone continues to be the most popular luxury choice in Southern CT.  Granite, imported from all over the world, is beloved for it's strength and beauty. Anxiety over radon has been calmed (it has been found in some exotic imports…consult your supplier if concerned), and if sealed and cared for properly, granite lasts without staining. Honed and leathered finishes bring a new feel to granite surfaces.  Marble is a luxurious and very popular choice, with its distinctive veining and subtle tones. It is vulnerable to acidic foods, oils and wine. If you are willing to be cautious and care for it regularly it is 'worth' the effort. White (calcium based) marble varieties have been increasingly sought after, particularly with trends toward white painted kitchens, the strong contrasts in modern kitchens and the soft grey tones popular today.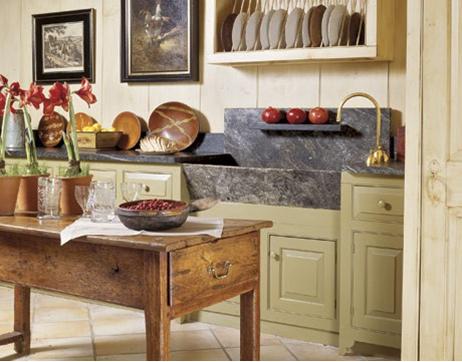 Soapstone farmsink and countertop, rustic wood work table island
There is an endless array of natural stone options; slate, limestone, sandstone, onyx and one of my favorites, Soapstone. Used in science labs for years, soapstone is a unique non-porous stone, an ideal material for under mount farmsinks. Soapstone does not stain; resists heat, acids, wine and needs no sealing. Its beauty is enhanced by mineral oil, which deepens the color, but is not necessary for its care. One disadvantage is that it is soft and can be chipped, which is easily ground out. It's a favorite for many serious chefs kitchens.
Laminate Surfaces have made an impressive comeback. The durability, increased sustainability and low cost of laminates make it a highly desirable choice for primary rooms or secondary spaces; like laundry rooms, playrooms and work areas. Through innovations in imagery, finishes, glues, etc, industry leaders have produced daring new products and installation techniques. Formica's 180fx series is a wonderful, low cost alternative to natural stone. In a beautiful range of colors (like the Slate Sequoia shown above) and finishes, it replicates slabs of natural stone. Skilled techniques allow Stainless Steel sinks to be under mounted and produce beautiful formed edges similar to stone.
Custom Wenge Island Countertop with Carrera Marble Perimeter
Quality Wood Countertops are a wonderful architectural addition to any residential spaces; particularly kitchens, pantries and bar areas. The opening photo shows a lovely butler's pantry with cherry countertop. Above is another custom top, this one in Wenge with under mounted sink. These countertops are surprisingly practical, most manufacturers offering a warrantee finish that is waterproof and durable. With more family life, entertaining, and use of portable devices in the kitchen the tactile quality of wood is preferable to colder, hard surfaces. From varying qualities of Butcher Block to Thick Custom Finished Pieces there is wide range of options available. These surfaces can be used for everything from utilitarian cutting boards to highly articulated entertainment spaces. They are a wonderful choice.
Sustainable options are available in eco-friendly materials. Concrete, Glass, Recycled Content and Composite Countertops.  Concrete is formed either onsite or in temperature controlled studios to control drying, consistency and prevent cracking. It can be prestained, and must be properly sealed to avoid staining.  Glass is fairly expensive, but a beautiful and durable material that can add a magical quality to the kitchen or bar. There are a number of company who do various colors, thicknesses and textures in the US and Canada. Recycled Content countertops are being done in recycled glass and from companies like Vetrazzo, Icestone and Curava . Composite countertops are popular in commercial applications, made of paper, wood pulp and water-based resins and require professional installations. There are available from companies like Paperstone and Richlite in limited colors. They are not resistant to excessive heat, do require care but clean up easily.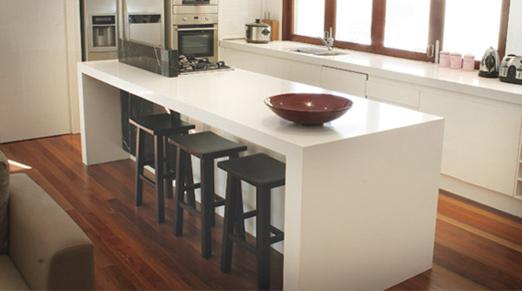 Engineered Stone Countertop from Caesarstone
There are dozens of companies, such as Caesarstone, Silestone, Cambria and Zodiak, producing Engineered Stone, often called Quartz. They use Quartz crystals and resins to produce a material that is harder than granite, and resistant to stains, bacteria and mold. It does not need to be sealed and is easy care. It is vulnerable to very intense heat and some corrosive cleaning materials, but generally it is considered to be one of the easiest care of all countertop materials. Due to it's germ resistant qualities it is the only stone-like material that can be used in restaurant kitchens and hospitals. For designers, it is wonderful to work with; it can be formed into different thicknesses and unusual shapes, as you see in the island above, with its flanking sides. It is also available in intensive colors and very large slabs, great for long uninterrupted runs and large islands.
There are still other more unusual Luxury Options to consider for your countertops. Concetto is an Engineered Stone product in select colors from Caesarstone, made from a variety of Semi-Precious stones. It is very pricey, but like no other product and can be backlit for a stunning effect. Another pricey, but beautiful option is Pyrolave, a gorgeous glazed Volvic Lava countertop made in France. A long lead time is needed, but the wait is worth the arrival of your gleaming counters with their distinctive crackle glaze, the enamel resistant to 1000 degrees C. It is available in a large range of vibrant and neutral colors, a perfect accent piece for a spectacular kitchen.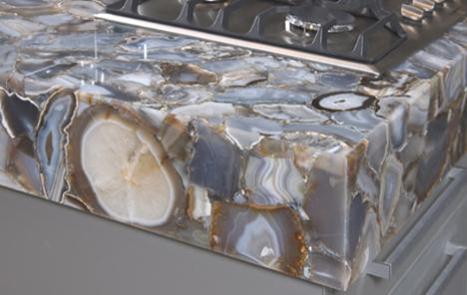 Concetto countertop from Caesarstone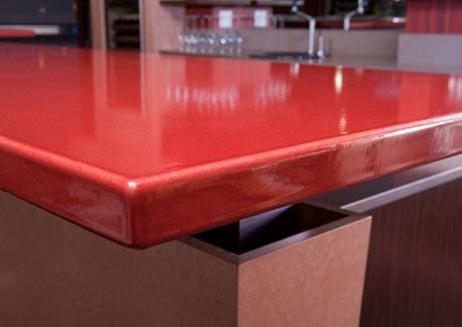 Pyrolave Glazed Lava countertop
Metal Countertops are still the workhorses of the commercial kitchens and bars, particularly Stainless Steel. In residential spaces they are less desirable for entire kitchens, but perfect for active prep sections and near sinks. In addition to Stainless Steel, Zinc and Copper are beautiful surfaces to consider. They can be sealed or be done in 'live' finishes. They do scratch and need polishing, but are the ultimate in durability…they'll be there forever.
Tile Countertops have fallen out of favor in recent years, other than for back splashes, but still remains popular for Country and Southwest themed kitchens. Cleaning is always a challenge due to the grout lines, so smaller tile countertops are not favored; but large tiles in granite or marble are frequently done when large slabs are too costly…it is a nice alternative, but always presents a vulnerable area at the edge.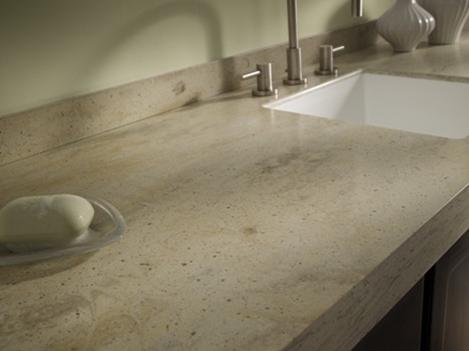 A Corian Bathroom countertop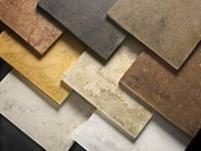 A Few of Corian's many selections
As a professional I'm often asked, "What is the most practical countertop material" available. Most of us agree, it's Corian, or one of the similar solid surface materials now available like it. The durability, midrange price point and design versatility of Corian is remarkable. The ability to mold the material, hide seams, build up thicknesses and integrate seamless sinks makes it unique. Although it fell out of favor while granite became so popular, the new colors and uses have reinvigorated designers interest and it is featured widely. Like Engineered Stone, it is stain resistant, and does not allow growth of bacteria or mold. It is also available in thin sheets for wall sections of adjacent spaces. It does scratch over time, showing more easily in darker colors, but it is the only product that can be ground out and brought back to new. It is also warm to the touch, unlike Quartz or Granite, ideal for desks where colder products would be unpleasant for long periods.
With so many choices to consider, analyze your design criteria, assess your practical needs…then throw caution to the wind and go with what you 'love'. You'll never regret surrounding yourself with surfaces you enjoy touching and something beautiful to greet you when you enter your rooms.
Written by: Lainey Baker, owner MH Baker, llc . Lifestyle Design, Kitchens & Baths
Contact: 203-550-1313
If you would like Lainey to address a specific design idea or trend please leave your comments below. We are happy to chime in.
https://wendyfog.com/wp-content/uploads/2021/02/wendy-fog-realtor.png
0
0
Wendy Fog
https://wendyfog.com/wp-content/uploads/2021/02/wendy-fog-realtor.png
Wendy Fog
2012-06-06 14:02:31
2012-06-08 19:31:49
Kitchen Countertops demystified….and welcome a new guest blogger