The State of the New Canaan Real Estate Market / a Snapshot of 2011
First let me thank all of my clients who ventured into the local real estate market in 2011. It is a joy and a privilege working with such wonderful people who honored me with multiple closings including the listing and selling of one of New Canaan's landmark homes in less than a week. I appreciate all your referrals and business.
This past year was the second straight year of modest improvement for New Canaan real estate. While we are not back to our 2006 highs, we have experienced two consecutive years of volume and price appreciation.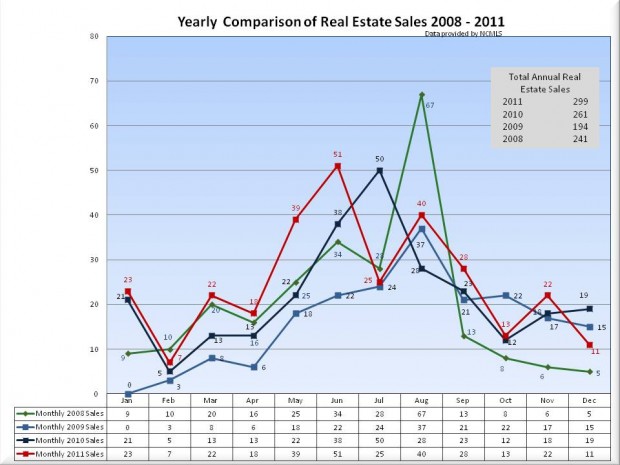 The real estate market has stabilized.  We are getting more of the distressed properties sold and out of the bank system. It was predicted that Shadow Inventory (foreclosed or ready for foreclosure homes) would flood the market. Well, it never happened. Foreclosure filings in Connecticut dropped sharply in 2011 compared with the previous year, plunging 48%, according to RealtyTrac.
New Canaan saw year over year increases in every category, a trend suggesting a growing optimism on the part of buyers and sellers for 2012 market conditions. Here are some important numbers for the past year:
2011 Single Family Homes:
Median Price: $1.60 million as compared to $1.46 million in 2010, up 9.4 %
Average Price: $1.90 million as compared to $1.69 million in 2010, up 11.9%
Homes Sold: 214 homes sold in 2011 as compared to 195 a year ago, up 9.7%
Absorption Rate: 10.7 months of inventory compared to 15.38, an improvement of 30.4%
Active Inventory: 207 houses for sale compared to 236 a year ago, an improvement of 12%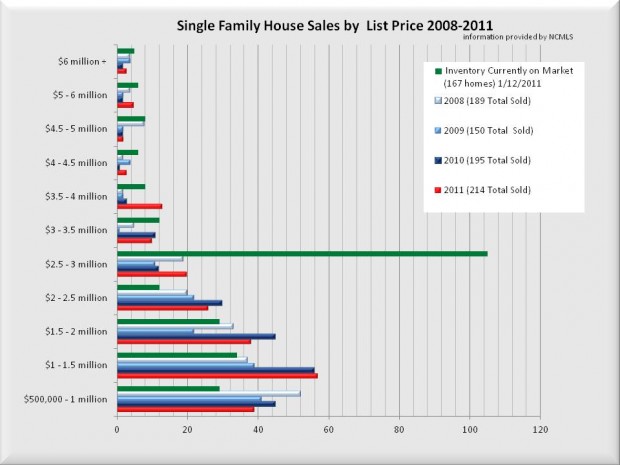 2011 Condominiums:
Median Price: $657,000 as compared to $595,000 in 2010, up 12 %
Average Price: $711,000 as compared to $656,000 in 2010, up 8.2%
Condos Sold: 62 condos sold in 2011 as compared to 39 a year ago, up 59%
Absorption Rate: 7.88 months of inventory compared to 21.94, an improvement of 64%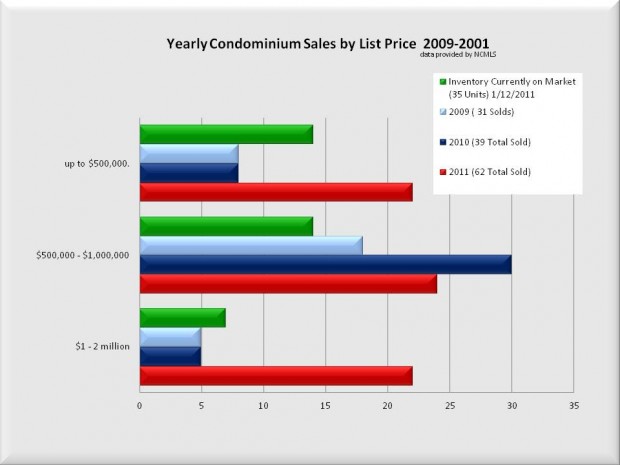 2011 Land Sales:
Perhaps the most dramatic increase has come in the market for land sales, again indicating an increased optimism on the part of builders and their customers.
The median sale price for the 3 lots sold in 2010 was $1,025,000.  For 2011 the median price fell 31% to $700,000 and builders did respond, buying 19 lots this past year, an increase of 533% in volume.  New construction activity has picked up as a result; builders are buying land at a cost that makes sense to build, primarily midrange homes.
The rental market has improved. The absorption rate for rentals has dropped from 7.4 months to 4.1 months. That is how long the current inventory of properties would last at the current rate of sales. The number of rentals closed in 2011 increased 16.5% to 120 from 103.  And while the average rental price has increased 40% to $3550, the median rental price has increased 162% to $4200.  The rental market tells us a good deal about the broader market. The reduction in the rental inventory and higher rental rates is due to a number of reasons; tighter lending requirements, people's damaged credit, loss of equity hence the inability to produce a down payment, job insecurity and the continued lack of confidence in the overall economy. For some it is a wait and see before purchasing.
The rental market is starting to produce much better cash flow and investors are actively purchasing more rental real estate.
Interest rates broke their historical lows of 2004-2005. The rates on average are about .5% to .75% below last year rates. A sample of rates as of first week of November 2011 with zero points: Loans under $417K=3.87% (conforming loans). Loans between $417K to $625K=4% (this is the new Jumbo conforming) Loans above $625K=4.5% (this is Jumbo loans). $729K  is no longer the jumbo loan limit.
This year was a much better year than last year and we expect it to continue to get even better next year.  The reason?  We're experiencing an improving economy, low interest rates and an upcoming presidential election. Historically, presidential elections bring about increased real estate activity, and coupled with low interest rates and increasing consumer confidence, it will help the New Canaan market to continue to grow in the coming year.
Finally, it is always important to bear in mind that in real estate there are neither "good" nor "bad" markets.   The market is simply the market and value is ultimately a function of supply and demand.  In the current market cycle, as we see an alignment between the expectations of buyers and sellers, the statistics are encouraging.  But while statistics provide a snapshot of the marketplace there is no substitute for the full picture.   For reports like this throughout the year come visit my website, https://wendyfog.com  and please call me.
Wishing you and your family a prosperous 2012!
https://wendyfog.com/wp-content/uploads/2021/02/wendy-fog-realtor.png
0
0
Wendy Fog
https://wendyfog.com/wp-content/uploads/2021/02/wendy-fog-realtor.png
Wendy Fog
2012-01-21 10:48:37
2012-01-21 13:45:50
The State of the New Canaan Real Estate Market / a Snapshot of 2011