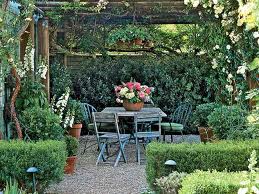 After being cooped up indoors all winter, my soul screams for fresh air, sunshine and dining under the night sky. Walking outside with a cup of coffee and settling into a cushioned seat to enjoy the early morning quiet, or sitting around a dining table under a wisteria laden pergola with a few good friends, these are some of the treasures and simple pleasures of outdoor living.
More and more people are retreating to their backyards and creating multipurpose outside living areas as extensions of their homes. Owners, architects and designers are incorporating all the comforts and luxuries of the indoor rooms into these exterior spaces.
An outdoor room is defined by having a floor, which can be as simple as grass, pebbles or flagstone; walls can be made up of plant material or stone or wood structures; and a ceiling can be comprised of a pergola or canopy of a tree. It can be a destination, or a retreat just outside your kitchen. It's all in the imagination.
Adding an outdoor living "room" is an important investment in your property and, more importantly, an investment in your own wellbeing and happiness.