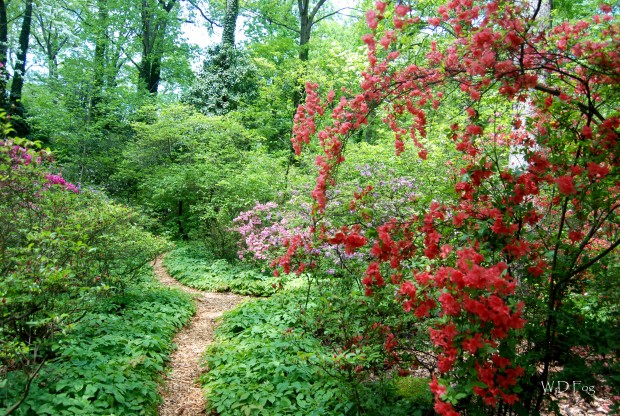 Good landscape design is not just about plants. What makes a garden beautiful and memorable is a sense of mystery. Nothing does that better than a meandering path. It hints at the unknown, luring you forward and creating an atmosphere of serenity and reflection. You've done it yourself; walked a lawn or meadow and you see a path, around a tree or through an arch, gently curving away from you. Suddenly,without thinking, you find yourself taking the path with an irresistible impulse to see where it goes. Paths are for wandering and contemplating, sauntering really. This is when you notice a small fern popping through the under story, or an errant rose having migrated to a new spot.
There is no end to the imagination in creating a path; shells, stones, grass, flagstone, ceramics, wood chips..the list is vast. They can be whimsical and fanciful, functional and handy, elegant and stylish, small or grand.  They can end at a beach, a garden sculpture, a bench or a water feature. Or they can end up back from where you started. The curves should be gentle and undulating with plant material sited to hide what is just around the corner. Formal gardens rely on symmetry and straighter lines. But for me, I like to take a hint from Mother Nature. There are no straight lines in the natural world.
There is a certain poetry to a path and one should be incorporated into every garden, regardless of size..